If you're looking for the perfect meat substitute, look no further than soya chaap (aka "soybean sticks").
Made with soya and flour the texture of soya chaap is somewhere between tofu and seitan. It's slightly spongey and can absorb the flavor of seasonings and aromatics easily.
You can find this ingredient at your local Indian Grocers.
This is a very popular ingredient in Indian dishes so I found this at my local Indian Grocery store, but you can also try your luck finding soya chaap on Amazon.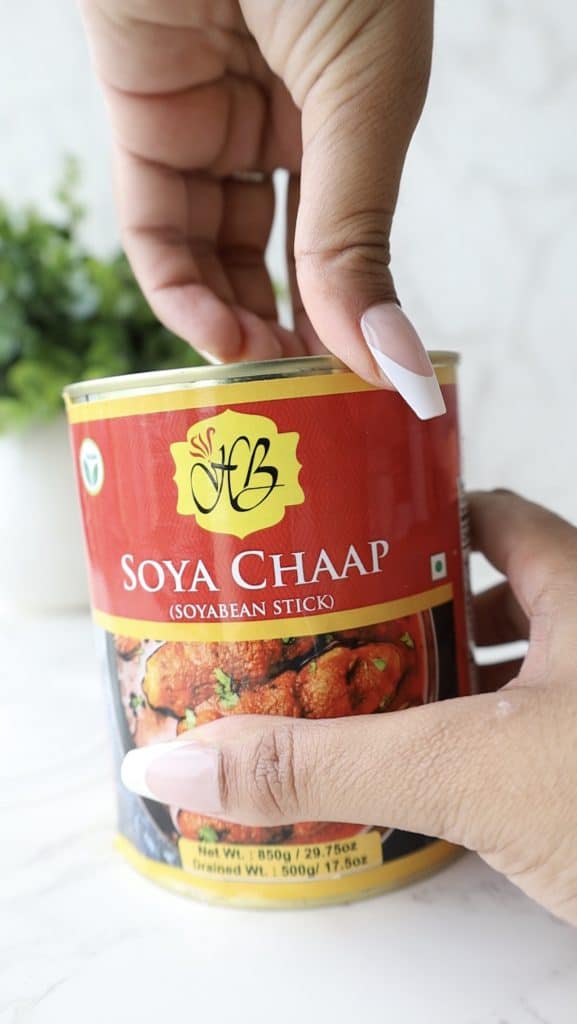 Soya chaap is versatile and can be used as a meat substitute for various meats, but works especially for chicken.
Because it is soaked in a salt water brine, it is vital to dry the soya chaap as much as possible to remove the excess moisture before cooking it.
But, make sure to be gentle since the texture of the soya chaap is very soft before it is cooked.
Wrap the soya chaap in paper towel, and softly squeeze out the excess water. However, don't squeeze too hard or it will turn mushy and crumble apart. For example, treat it like how you'd treat tofu.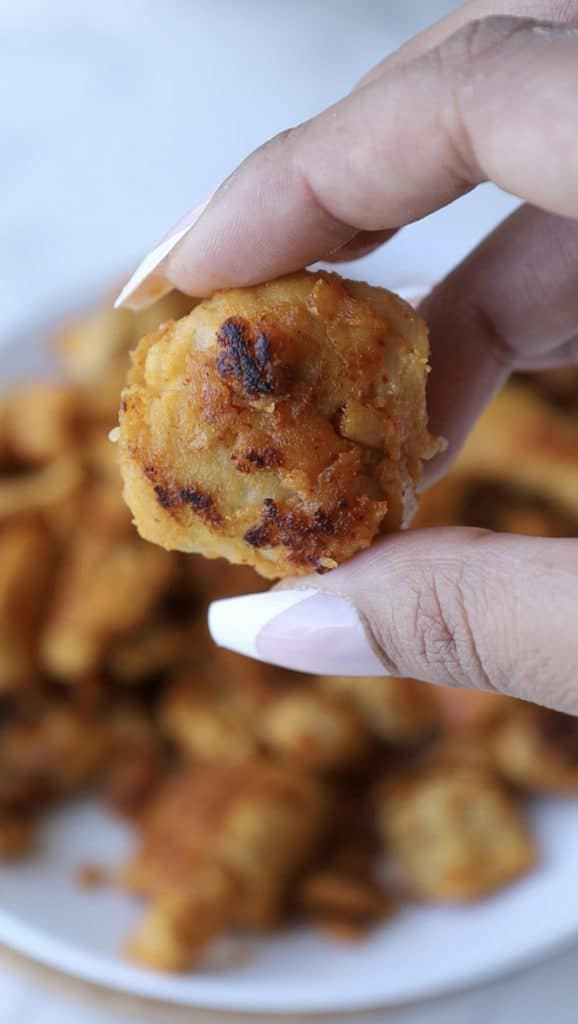 Then, sauté your soy bean sticks until they are golden brown and crispy.
First, add a little oil to your pan and cook the soybean sticks until they start to brown. Then, add your seasonings and continue sautéing until the soybean sticks crisp up. With this step, the goal is to dehydrate the soybean sticks and improve their texture.
Keep in mind, this step can be a little time consuming. It takes up to 15 minutes to draw out the moisture from the soybean sticks.
However, the end result is worth it. You will end up with the perfect pull-apart meat-like texture to your soya chaap.
Looking for More Meatless Recipes? Check these out:
Ingredients:
Curry Base
3 tbsp butter
1 c onions
1 tbsp garlic
1 tbsp ginger
1 tsp garam masala
1.5 tsp kashmiri mirch (or regular chili powder)
1 1/4 tsp cumin powder
1/4 tsp turmeric
1 tsp fenugreek leaves
salt (to taste)
1 c pureed canned tomatoes
25 cashews
1/2 c cream (half n half, heavy cream, evaporated milk, or coconut milk all work)
1 tsp sugar (optional)
1.5 c water
Soya Chaap
500 g soya chaap
3 tbsp oil
1 tbsp cajun seasoning
Instructions:
Curry Base
First, start by sautéing your onions in the butter until they they turn translucent. Make sure to keep your heat on medium.
Add in your chopped garlic and ginger and cook for another minute or so.
Then, add in your garam masala, chili powder, cumin powder, fenugreek leaves, and turmeric and cook for another minute. You may want to turn the heat slightly down to make sure the spices don't burn. Cook until aromatic.
Now, add in canned tomatoes, salt, and cashews. Let simmer for for 5-7 minutes.
Add in water, bring to simmer, cover your mixture with a lid, and let cook for 25-30 minutes. Make sure to keep checking on the mixture every 5 minutes or so to give it a stir and ensure it doesn't stick/burn.
Wait for the mixture to cool down, and then mix with an immersion blender, or pop into a regular blender. Do not pour a hot mixture into your blender!! It has to be fully cooled.
Strain your blended mixture through a sieve to remove all excess cashew pulp.
Add in your cream, paneer, and sugar, and extra water if needed.
Let mixture simmer for another 10 minutes until paneer is nice and soft.
Garnish with cilantro and more cream.
Soya Chaap
Soak up excess moisture from your soya chaap using a paper towel.
Next, heat up your oil and add in soya chaap.
Then, sauté on high heat until the soya chaap starts to slightly brown.
Sprinkle your seasoning on top and mix evenly.
Finally, continue sautéing until golden brown and crispy. The whole process could take 10-15 minutes depending on how much moisture is in the soya chaap.
Print
Korean Cheesy Corndog
Cheesy Korean corndogs covered in a crispy golden brown batter and topped with gochujaru and kewpie mayo.
Materials
Batter
1 c all purpose flour
1 tsp baking powder
1 tbsp sugar
2 tsp salt
1 egg
1/3 c milk
Other
Veggie "hotdogs"
Mozzarella
Oil (for frying)
Cubed potatoes (for garnish)
Extra Sugar (for garnish)
Gochujaru Sauce (for garnish)
Kewpie Mayo (for garnish)
Instructions
Mix together all purpose flour, baking powder, salt, and sugar.

Add one egg and milk, and mix together well. If the batter is too thick, add more milk, 1 tsp at a time.

Cut a block of mozzarella into rectangles (about the same width as your veggie hotdogs.

Add veggie dogs and mozzarella to a skewer, keeping each as close to the center of the skewer as possible.

Heat oil to a medium oil in a skillet.

Add your batter to a tall glass and then dip your skewers into the batter, coating evenly.

Dip skewers into your preferred toppings: panko breadcrumbs and/or cubed potatoes.

Fry each skewer until it's golden brown, rotating halfway so both sides are evenly cooked.