Introduction to Smashed Cucumber Salad
This dish is inspired by the traditional Chinese smashed cucumber salad which is crisp, refreshing, and makes the perfect appetizer. The key to get the perfect balance of flavors here is to use a combination of sesame oil, soy sauce, sugar, spice, garlic, and rice vinegar. The end result is absolutely delicious and this dish only takes about 5 minutes to prepare.
Breakdown of the Ingredients:
Cucumber: Feel free to use English or Persian cucumbers for this dish, either work! Although, English cucumbers don't require as much "smashing" since they're already fairly soft.
Sesame Oil: Sesame oil has a strong nutty flavor and adds amazing depth to this dish. It is a key flavor in this recipe and really shouldn't be substituted with any other oil.
Sugar: Any time I use sesame oil in a dish, I also add sugar. Without the sugar to balance things out, the sesame oil flavor would be far too strong. But once the sesame oil is combined with the sugar, it creates the perfect flavor.
Chili Oil + Red Chili Flakes: We all love a little heat! Feel free to adjust the amount of chili oil and red chili flakes you use to your desired spice tolerance and preference.
Rice Vinegar: Rice vinegar is sweeter and less potent than regular white vinegar. Therefore, seasoned or regular rice vinegar is recommended for this dish. Regular vinegar will overpower the other flavors.
Soy Sauce + Salt: It is important to use both soy sauce and salt in this dish to prevent using too much soy (which will overpower the dish). Instead, add salt if you find that the dish isn't savory enough for you.
Garlic: Make sure to either finely chop or mince the garlic here. No one wants to bite into big chunks of garlic in their salad! (At least, I don't lol).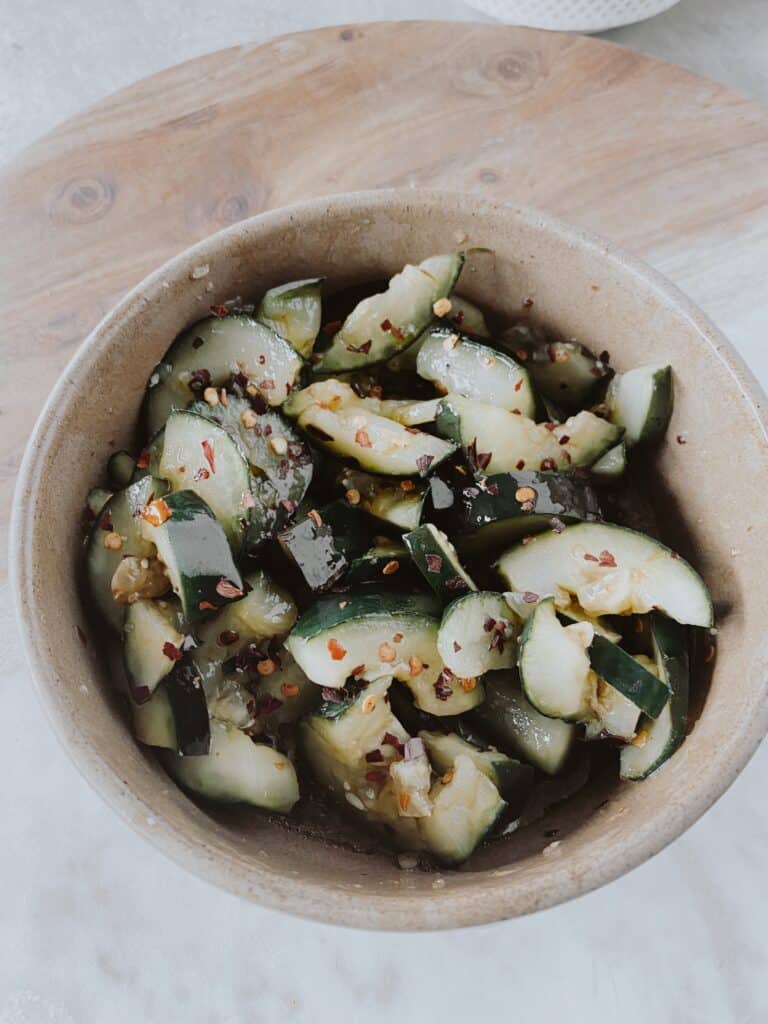 Process + Keys to Success
Smash the cucumber! I didn't just write that in the title of this recipe for no reason. Grab a rolling pin or a water bottle and firmly smack the cucumber before you cut it up. "Smashing" the cucumber helps to soften it and makes the sauce absorb better.
Let your salad marinate. Combine all of your sauces in a bowl and whisk together. Then slice your cucumber to the shape of your choice and pour the sauce on top and mix well. Let the salad marinate for at least 10-15 minutes before serving.
More Recipes You'll Love:
Smashed Cucumber Salad
Materials
1 cucumber
2 tbsp soy sauce
3/4 – 1 tbsp sesame oil
3/4 tsp sugar
1/4 tsp chili oil
1/2 tsp rice vinegar
red chili flakes (to taste)
salt (to taste)
1 tsp chopped garlic (optional)
Instructions
Grab your cucumber and smash it using a rolling pin or water bottle. Make sure to hit it firmly enough to dent the cucumber, but not so firmly the cucumber just breaks apart entirely.

Slice the cucumber and remove the seeds if you like. I typically leave mine in.

Rub your cucumber slices with a bit of salt and let the cucumber marinate for 10 minutes or so. The cucumbers will release water so make sure to drain that excess water.

Add in your soy sauce, sesame oil, chili oil, red chili flakes, rice vinegar, and sugar. Feel free to adjust these ingredients to your preference. If you want it to taste more tangy and tart, add more rice vinegar; if you like it more sweet then add more sugar; and if you want it spicier you can add more chili flakes. Also, keep in mind that sesame oil has a really strong flavor. So I recommend adding a little less and then working up to more.

You can also add garlic if you'd like! But this dish is pretty flavorful even without it.