The paneer tikka roll -one of my all time favorite Indian street foods. Like all Indian food, it's bursting with flavor and absolutely delicious. The main components of this roll are: spicy paneer, instant pickled onions, green chillies soaked in vinegar, crispy red cabbage, cilantro chutney, and a spicy paratha as the wrap.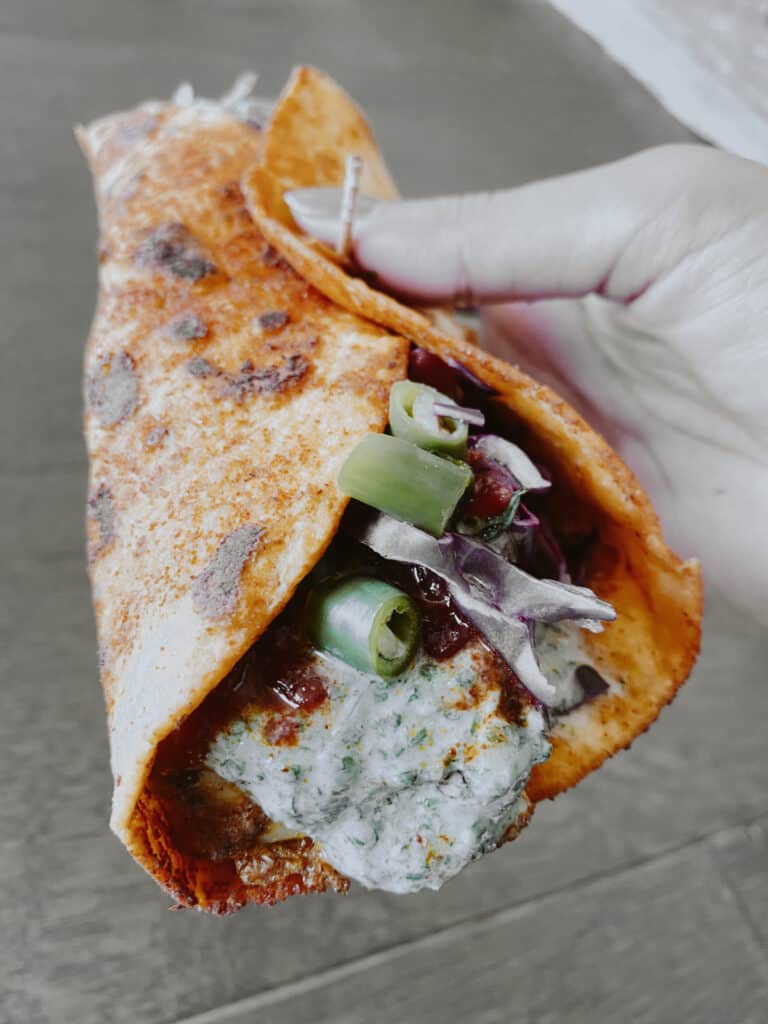 Paneer Tikka Roll
A spicy paneer wrap served with chutney and pickled onions!
Materials
Paneer Tikka
~230 g paneer
5-6 tbsp yogurt
3/4 tsp cumin
1/2 tsp coriander powder
1/4 tsp turmeric
1/4 tsp chaat masala
1/4 tsp garam masala
1/2 tsp fenugreek leaves
1/4 tsp amchur
1 tsp Kashmiri mirch
1/4 tsp salt
Chutney
3 tbsp cilantro (finely chopped and tightly packed)
1 tbsp mint (finely chopped and tightly packed)
4 tbsp yogurt
1/8 tsp cumin powder
1/8 tsp chaat masala
1/8 tsp mango powder
1/8 tsp garlic powder
1/8 tsp salt
2 green chillies
1 tbsp Lemon juice (optional)
Pickled Onions
2-3 tsp oil
1/4 large red onion
1 lime
3/4 tsp chaat masala
3/4 tsp kashmiri red chili powder
Instructions
Paneer Tikka
In a bowl mix together your yogurt and all of your spices

Cut your paneer into pieces (I cut mine into thin rectangles for a traditional paneer tikka shape but you can cube your paneer instead)

Coat your panner evenly on both sides with the yogurt mixture and then pop it into the air fryer at 350 degrees for about 15 minutes. If you don't have an airfryer, simply use an oven or pan fry your paneer instead
Chutney
Combine all of your ingredients in a food processor and mix until smooth
Pickled Onions
Sauté your onions in oil until they soften and then add the juice of one lime

Cook for another 30 seconds or so and then add in your spices

Continue to cook until all of the lime juice has absorbed into the onions
Notes
I also highly recommend adding green chilies soaked in white vinegar into this roll. I soak mine for at least 20 minutes.
For the wrap itself you can use a roti, parantha, or tortilla. Fry it in some butter and hot sauce for some extra flavor. I use a 1:1 ratio of earth balance butter and tapatio hot sauce and coat each side of my tortilla evenly.